Restoring Your System With System Restore
Recommended: Click here to fix Windows errors and optimize system performance
System Restore is a handy built in Windows application that allows you to restore your system to a previous working state. It is an ideal first line of defense when you install a software application and you find that your pc does not respond the way you thought it would.
When major problems occur the first thing most people do is panic! Admittedly there are instances where panic is the only thing you can do but, in most cases, there is an easier way of solving the problem simply by using System Restore.
System Restore monitors what is happening on your pc and periodically takes a snapshot of your systems important files. It is from this 'snapshot' that System Restore is able to take your pc back to a specific time when the pc worked okay.
While system restore periodically takes snapshots, you don't have to wait for system restore to 'snap' your system. You can actually create your own system restore points as and when you wish. This is particularly useful when you are making extensive changes to your system or you are editing the registry. It is worth pointing out, though, that backing up the registry separately is always a good idea.
Where to begin
We start by learning how to create a system restore point and then we look at using system restore to restore the pc to an earlier time. Finally you will learn how to shut system restore down and how to monitor its disk usage. But first how do you create a system restore point?
Creating a System Restore Point
To start using system restore click on the Start button and then click on All Programs>Accessories>System Tools. From the system tools drop down menu click System Restore. The Welcome to System Restore Window will now appear (Fig 1)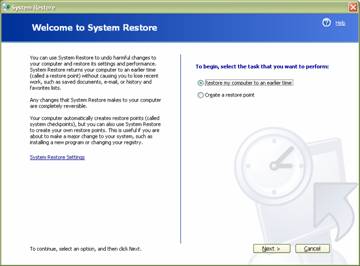 Fig 1: Welcome To System Restore window
The first thing you need to do is click your mouse on the radio button next to the 'create a restore point' option. You will see that a small green dot appears inside the radio button. This tells you that the option has been enabled. Once the option is enabled click the Next button.
The create a restore point window will now open. To create the restore point simply type in a descriptive name in the system restore description dialogue box and then press the Create button (Fig 2)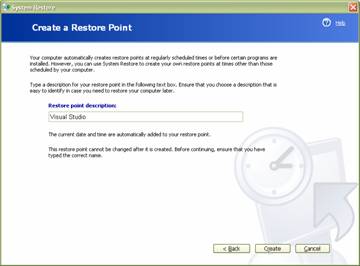 Fig 2: Create a restore point
The system restore point in now created. Once created the restore point created screen will appear. All you have to do is now is click the Close button to exit system restore. (Fig 3)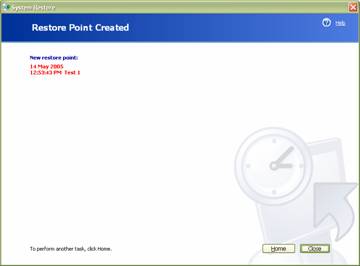 Fig 3: Restore point created window
A Quick Restorative
When the time comes for you to use system restore to restore your system to an earlier time you simply click on the Start button and then click All Programs>Accessories>System Tools. From the system tools drop down menu click System Restore. The Welcome to System Restore Window will now appear (Fig 1)
The next step is to click on the Restore my computer to an earlier time option and then click the Next button. The next window allows you to select a specific date to restore your computer to. (Fig 4)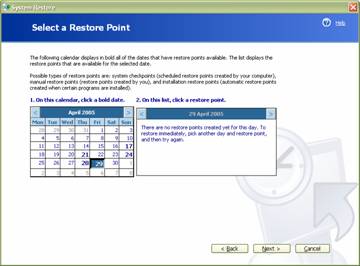 Fig 4: Restore Point calendar Window
As well as the system restore calendar you will also find, in the right hand pane of the window, either one or a number of timed events. These timed events consist of the time a system restore was performed or, if you have installed one or more applications, the time at which the install was commenced. If you only have one system restore point then select that. If, on the other hand, you have a list of other application that you installed on that day, you can select to restore your system to a specific time. (Fig 5)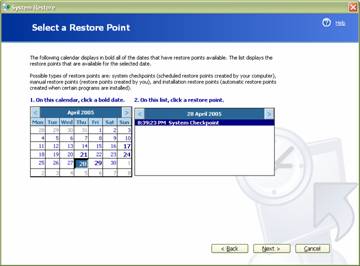 Fig 5: Select a specific date and time for the system restore
Once you have selected both the date and time of the restore, click the Next button.
Your selection has now been made. All you need to do now is confirm that the system restore date and time are correct. From the Confirm Restore Point Selection window you can view the details that have been selected. If these are correct simply press the Next button. (Fig 6)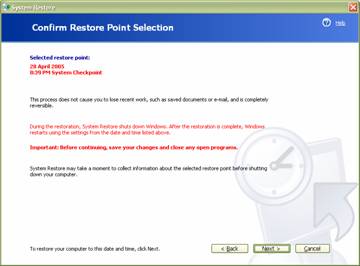 Fig 6: Selection Confirmation Window
Once the Next button has been pressed the system will begin collecting information before shutting down. As the system restarts again a system restore progress bar will appear. This will indicate the progress of the system restore.
Once the restore has been completed your system will restart using the settings from the date and time you selected. If all goes well a message will appear informing you that the system restore was successful. Your system has now been restored to an earlier time. (Fig 7)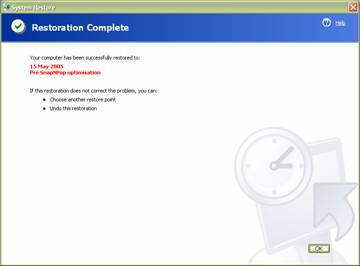 Fig 7: Restoration Complete Notification
While you should not loose any recently saved documents or emails you will loose any software that you installed after the original restore point was taken.
Turning System Restore Off
On average system restore allocates 12% of your disk space for system restore points, with the minimum amount of space required being 200MB. Anything less than this and system restore will automatically stop monitoring your drive(s). You don't have to allow system restore this large amount of room. You can easily control how much space system restore allocates by adjusting the disk space to use slider bar in the drive settings window (control panel>system icon>system restore tab>settings button) (Fig 8)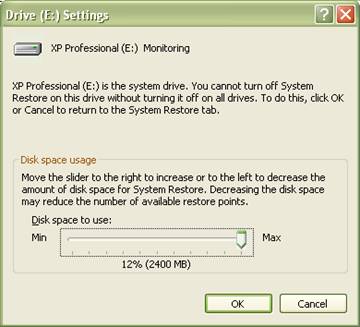 Fig 8: System Restore disk space monitoring
At some point the space allocation is going to be exceeded and when this happens system restore starts deleting restore points to grab back valuable disk space. What normally happens in that system restore deletes the oldest restore points first.
There may, however, be times when you need to physically remove all of your restore points. One particularly good example is when your anti virus software notifies you that you have a virus and after deleting the virus the anti virus software still insists that it is there. What has happened is system restore has taken a restore point at the time the virus entered your system and a copy is stored in the system restore back up file. If the anti virus software says there is a virus in RESTOR_TMP or something similar you can bet that the virus has been saved in a system restore backup. The easiest and quickest way of solving this problem is to delete all system restore points (there is no facility of delete individual restore points). You do this by clicking the start button and then from the start menu clicking the control panel option. In Control Panel click the System Icon. This opens the System Properties window. Next click the System Restore tab. All you need do now is click your mouse on the box next to the Turn off System restore on all drives option. Finally click the Apply button for the changes to take effect (Fig 9)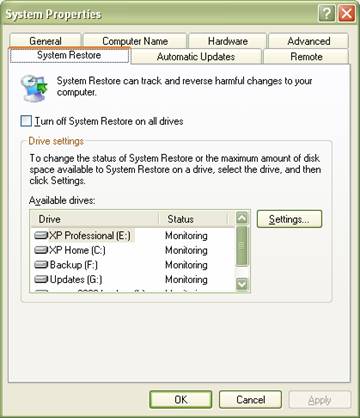 Fig 9: System Restore tab in System properties Windows
You can also use this option if you simply don't want to use system restore. If you require system restore to start monitoring the drive(s) again, simply remove the tick mark from the Turn off System restore on all drives then click the Apply button again and Windows System restore will start monitoring your drives once more.